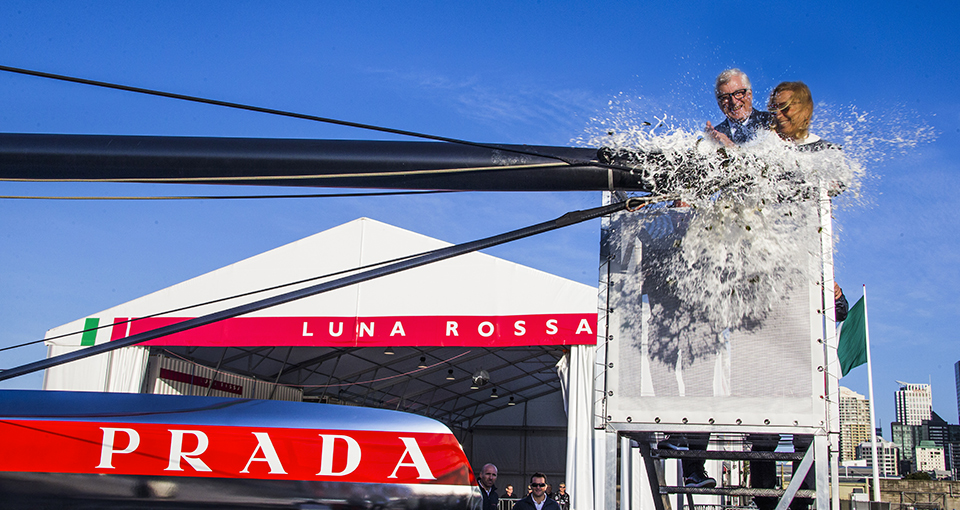 Miuccia Prada does the honors, christening Luna Rossa alongside Patrizio Bertelli. Photo and brand positioning by Luna Rossa/Carlo Borlenghi
So Luna Rossa launches, but did Patrizio miss the memo?
At Friday's launch of Luna Rossa, Sr. Bertelli goes off telling his audience, "We have two virtually identical boats. That can be mutually beneficial. We can compare boats and improve boats better that way than in isolation. It is going to be very interesting."
Ah, Patrizio, I thought we were supposed to be downplaying this little feature . . .
Remember when Oracle and Artemis both objected to the Luna Rossa-Emirates Team New Zealand alliance, and your boys had to argue a case with the International Jury that your intentions and actions would comply with the restrictions of the Protocol, and the Jury came down on your side to the tune of allowing that information gained though observation is of little value? We wouldn't want to be contradicting ourselves, would we?
Jury Notice 33 dated February 20, 2012, argues:
"There is a significant difference between gleaning information by observation (including the use of instruments) and sharing information that would otherwise only be known to the boat concerned. While the former may provide limited benefit, it is only the latter that can be relied upon for the purpose of developing an AC72."
And we wouldn't want our boys to be relying upon unreliable stuff, would we?
Or, as the defender and the challenger of record probably would like to remind the Jury along about now, We told you so.
Or perhaps we really believe that trialing rudders or daggerboards while sailing against an identical boat gives you no beneficial, actionable information about that boat, and yours?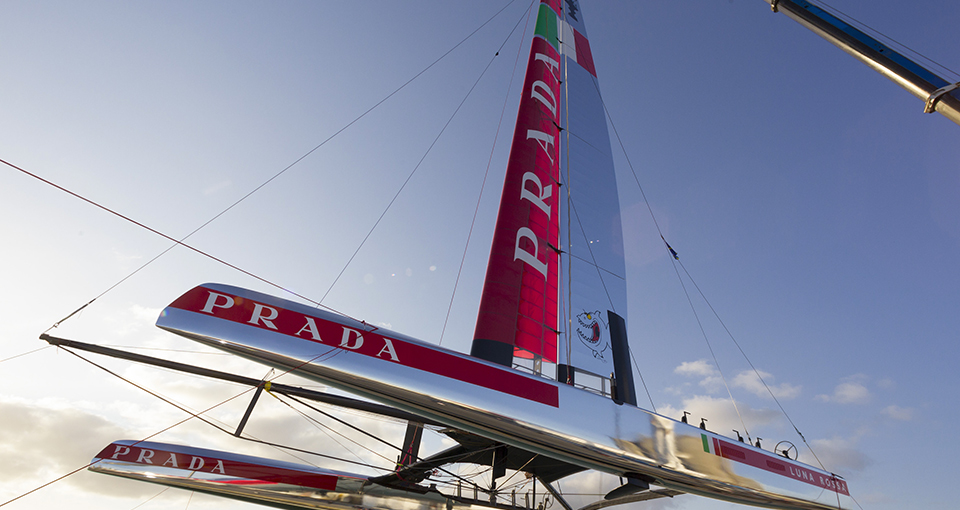 Photo by Luna Rossa/Carlo Borlenghi
Mamma said, be careful what you wish for. Early in the new game, Larry Ellison and Russell Coutts saw that they could not hope to build a professional, profitable America's Cup and spinoff circuit (or vice versa) unless teams and sponsors believed in a level playing field. It can be a mite tricky to seed an independent entity with private money, but apparently it's working. The International Jury has ruled against the defender twice so far on points that matter. I figure it's Ellison's investment in Thomas Becket.
This business of how information is "shared" or not hinges upon a couple of clauses in the Protocol
33.2 From 1 April 2012, Competitors, including through the assistance of third parties, shall not share or exchange any further AC72 Class design or performance information or equipment. This restriction shall not apply to:
(c) design and performance information which may be gleaned without assistance when competing against or training with another Competitor;
Which could be seen as contradictory with
33.4 Any agreement, arrangement or other understanding, whether legally enforceable or not, by one person or entity . . . whether then a Competitor
or not, with any other person or entity . . . that the second person will directly or indirectly build, acquire or otherwise obtain one or more yachts of whatever type . . . so that the first person can directly or indirectly obtain, in any manner whatever, design or performance information regarding the other yacht or yachts for use in the program of design, development or challenge of the first person, is prohibited.

Most recently the International Jury agreed with Oracle Team USA that the foils in play on Emirates Team New Zealand (and soon to be in play on Luna Rossa) are not in accordmy wordingwith the "intent" of the AC72 rule, but intent is irrelevant. Whatever is not specifically prohibited is legal, the Jury ruled, because for them to interpret intent is to create a new rule without authorization.
Yep, be careful what you wish for.
THE PITCHPOLE, THE FALLOUT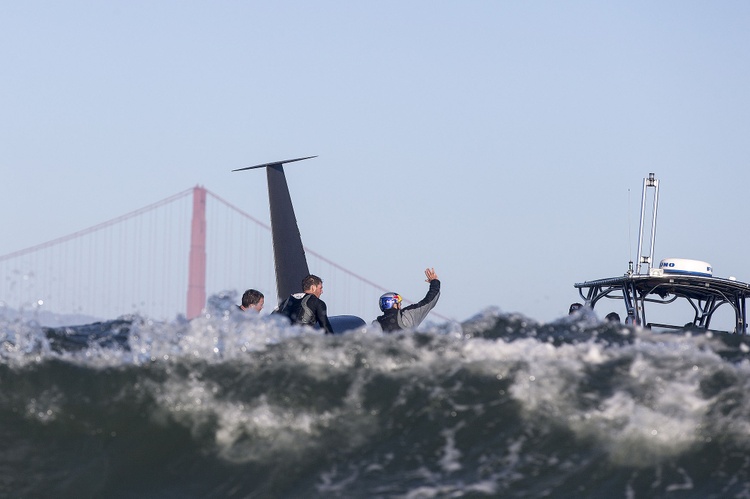 Photo by Guilain Grenier/Oracle Team USA
Soon after bringing the America's Cup to San Francisco, Larry Ellison related a story from his college days about taking a Lido 14 out of the Cal Sailing Cllub in Berkeley (it's an all-time great sweat-equity outfit, btw) and sailing all the way across San Francisco Bay, with the Golden Gate luring him on. How could anyone with a sense of adventure or curiosity not want to sail under the Golden Gate Bridge? In the narrows of the Golden Gate Strait, however, wind and sea can drive a wicked bargain, especially when the tide is ebbing against the breeze. Ellison discovered as much and offered up his own bargain, "I said, if God will just let me make it back under the bridge, safe in San Francisco Bay, I will never do this again."
The story comes to mind because it is the ebb tide that ate Mr. Ellison's AC72. For starters, it was a wave generated by a strong ebb current that 17 stuffed and could not unstuff. Then it was the ebb that carried the pitchpoled boat out of the bay before the team could right it. Then it was the gobbly, ebb-generated chop of the Strait that tore it apart.
A must-view.
Embedded below, or search out a full-screen version at Oracle Team USA.
This article was syndicated from Blue Planet Times