The Mariner is hunkered down on the Chesapeake Bay, waiting to see if Hurricane Sandy is going to have mercy on his fine vessel. The worst will occur tonight and tomorrow, so with nothing more to do to prepare it's a good time for a little escapist fantasizing.
For that let's turn things over to the man who has helped millions, maybe even billions, of people escape via his various electronic devices: Steve Jobs. Because one of Steve Jobs' last great design projects was a superyacht, called Venus.The lead architect was Philippe Starck, but Jobs being Jobs you know he was deeply involved in the details.
Here is the result, just launched in the Netherlands. It's a shame Jobs didn't live long enough to enjoy it.
It's definitely distinctive, and not very salty looking, I can't say I think it is beautiful. In fact, to me it looks a lot
like an Apple store (and according to GCaptain, Walter Isaacson's bio of Jobs mentions the yacht, and how Jobs got the chief Apple store engineer to design special glass that allowed vast window expanses that also serve as structural support).
Hmm, I wouldn't want to see those glass walls face off against Sandy. Anyhow, here are some pictures from the Dutch website One More Thing, which supplied them.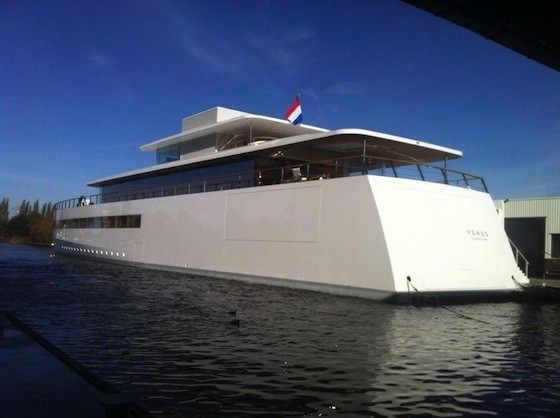 (via GCaptain and One More Thing)