Okay, now that you have your Dream Boat, where are you going to sail it?
I am here to serve. So let me point you toward the Caribbean paradise of Saint Barts, where one of the most spectacular regattas on God's blue ocean will take place in a month.
Les Voiles De Saint Barths. It sounds exotic, non? Does it feature beautiful classic yachts, luxury yachts, and flat-out racers, bashing it out across deep blue waters in whistling tradewinds? Why, yes, yes it does.
April 2-7. Be there. And any American with a pulse has to be happy that one of the prime stars of the week
will be the venerable, yet still race-winning, Dorade:
Among the 60+ entrants registered to date is what many call the world's most famous yacht of all time: the 52' (15.8 metre) yawl Dorade. Purchased in 2010 by Matt Brooks (San Francisco, Calif.), Dorade was designed by the late Olin Stephens and originally launched in 1930. She influenced nearly all developments in yacht design for the next three decades and was hugely successful in distance racing, taking overall victory in the 1931 Transatlantic race and the 1931 and 1933 Fastnet races, among others. Now, Brooks, who has spent the last year overseeing a refit and major restoration of Dorade, is utilizing Les Voiles de St. Barth as a platform for both yacht and crew preparation, with the goal of entering Dorade in her first major modern ocean race this summer: the Newport to Bermuda Race, in which she finished second in both 1930 and 1932.

"We are assembling and training a crew with the right skills, chemistry and experience to race Dorade and win," said Brooks, who is a world champion in the 6-metre class as well as an accomplished mountain climber and world record-holding jet pilot. "We also are toughening up Dorade herself, readying her for the kind of long-range sailing she hasn't seen in decades, keeping in mind that while she may be game, she is also an eighty year old lady."

Dorade will sail in the Classics division against such other standouts as Kate, an Intel 60 (18.2 metre); Cruinneag III, a 63' (19.4 metre) ketch, and Marie Des Isles, a Gran Shpountz 65 (20 metre). Among Dorade's crew will be John Burnham, an IOD World Champion and Shields Class National Champion; legendary Bermudian sailor Buddy Rego; Jesse Sweeney, Dorade's navigator and a member of the Camper Emirates Team New Zealand's meteorology team for the Volvo Ocean Race; and Jamie Hilton, a two-time 12 Meter World and North American Champion, who also was a member of Brooks's team when it won the 2011 Six Meter World Cup.
WTF? Where was my invite?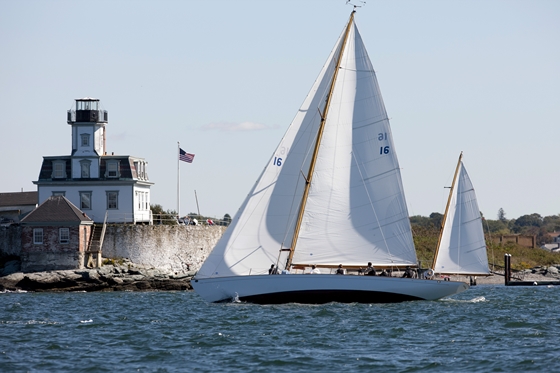 Lots of photos and vid here, if you are in doubt. And, eventually, for all the losers, I mean people with normal jobs, who can't make it: a live webcam.
Follow The Mariner by bookmarking this page. RSS feed is here. Tumblr is here.