14-Feb-2012 puerto vallarta, mexico.
Welders were out today to get started on the davit install. They basically came out, lined them up, tac welded them to the mounting plates, and took them back off to the shop to finish up properly. Back in a couple of days to install those and fit the two reinforcement bars. Hopefully a couple days after that this project will be in the books.
Lowe got himself a play station stand-up toy thing-a-ma-bob the other day. He's digging it. The house continues to be overrun by brightly colored Made in China toys. The nice thing about kids is that most of this stuff only needs to last a couple of months while they grow through a stage, and after that it takes nothing more than setting it outside in the parking lot for it to be picked up by some other parent for reuse.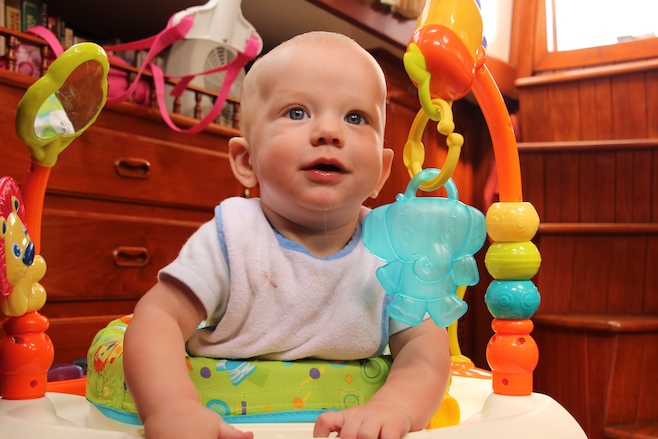 Lowe seriously loves Ouest. The other day she was running circles around the room paying no attention to him whatsoever but he just laughed and laughed every single time she passed by him in a whirl. And if we set him anywhere near her he immediately tries to get to her. Sometimes she's cool with that, other times she just up and leaves. Today she was incredibly patient as he climbed all over her while she continued in vain to try and read her book.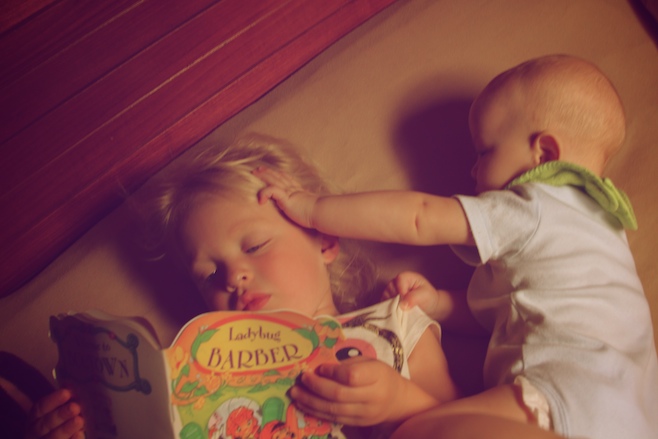 15-Feb-2012 puerto vallarta, mexico.
This morning while Ali put down Lowe for his morning nap I took Ouest downtown with a refrigerator compressor slung over my shoulder. I knew things were looking up when we walked up to the bus stop at the same instant the bus pulled up. I always get a thrill from that.
When I walked into the shop they listened as I explained that the compressor sounded fine as it spun freely but as soon as the power was kicked on for the fridge the grinding noise came out full blast. The boss was there today and took over. He pulled everything apart again and finally decided that the plate on the front of the compressor that gets locked back against the spinning wheel when the power kicks on was the culprit. He put a new one on and then hooked the compressor up to power. Everything seems to be in working order again, though that wasn't a true test since there was no belt driving the compressor, just a hand spinning it. We'll see I guess, as soon as I manage to get in there and hook it all back up again.
After that we walked over to the marine store to pick up a couple small things. I needed eight stainless steel rings and they had three. "Can you get more?" I asked. "No, sorry." Was the simple reply. And this is why there is no such thing as a simple boat project down here.
I had a couple of things to return while I was there and that caused all sorts of problems as well. Five hundred pesos was what I was owed. About forty bucks. The store didn't have that much cash in it. This store is essentially the West Marine of Puerto Vallarta and they don't have forty bucks in the till three hours after opening. I had to take a credit. You see this everywhere in Mexico. It seems strange at first, but then just becomes part of everyday life.
Which reminds me of another strange store situation I ran into the other day. There is a bookstore at the mall here with a really good selection of books. Not a lot of books, just good quality. The problem with the store though is that they shrink wrap all of their books. Every single one of them. You can't even flip through that Dora the Explorer book to decide if your two-year-old might like it or not. Who buys a book, any book, without flipping through it first?
This afternoon I also began making the mainsail's lazy jacks. Making them is really simple actually, the biggest obstacle for me right now is going to be getting up the mast to install two blocks to run the lines through.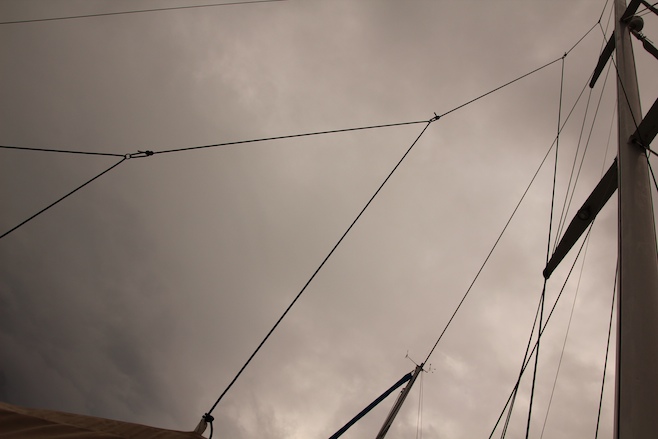 Lowe is getting up on his hands and knees now. Should just be a matter of days before he is crawling. Can't wait.