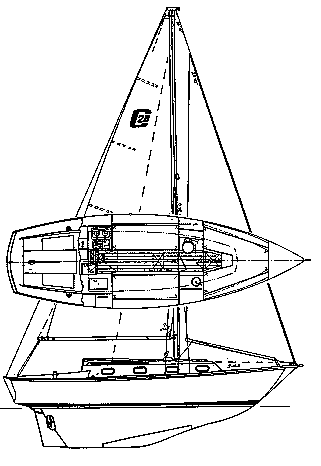 Between the years of 1963 and 1991 Cape Dory Yachts built over 4,800 boats. Designed by Carl Alberg during a time when the newly booming fiberglass pleasureboat industry was churning out the beamy, lightweight cruiser/racers which so disastrously failed in the 1979 Fastnet race, the Cape Dory 28 really stands out. It is unequivocally a cruising boat, built with the conservative full keel and hefty displacement which gave Alberg a name as a designer of production boats which simply sailed well.
There are myriad benefits to the heavily ballasted full-keel designs which made Alberg famous, many of which are very important from a cruising perspective. A full keel is invaluable during groundings, protecting the rudder and lessening impact damage. It produces a stiff boat which both sails comfortably and tracks well -even in heavy weather. And it is much less effected by heeling or wave action than a lighter, beamier boat or one with a fin keel. Then, of course, there is relative safety in the worst of situations: heavy, full-keeled boats are very hard to knock down and will quickly right themselves in the awful event of a roll over.
These, I imagine, are some of the reasons Carl Alberg stuck to his guns in continuing to design conservative yachts when so many around him were sacrificing safety and all-around performance in order to stay in the vogue with popular, unproven designs.
Andrew Vavolotis, founder of Cape Dory yachts once described working with Albert:
"I always asked Carl to design me the beamiest and shallowest boat possible. Then he'd go away and what he came back with was what we used. Of course, it was never as beamy or as shallow as we liked. He never compromised his design principles."
In Vavolotis's company Albert found a great match for his traditional designs. My CD 28 is expertly constructed and in keeping with Alberg's design principles in every case care has been taken to err on the side of safety and durability. The solid fiberglass hull is in places nearly an inch thick while hardware is heavy-duty, invariably properly backed and isolated from the deck's balsa core. With the conspicuous exception of disintegrated chainplates, my Cape Dory is in remarkably good shape for a 36-year-old boat and the majority of problems that need fixing are not the fault of the original builders, but of poorly-executed aftermarket modifications.
Load-bearing hardware is completely isolated from cored sections of the deck so it will maintain its integrity even if water penetrates cored areas. It is seemingly small features like this that keep a boat seaworthy after 36 years.
In this remarkable longevity my boat is not alone. Cape Dory sailboats enjoy a great reputation and there are hundreds of these decades-old Alberg designed boats still getting regular use (judging by the size of the registration page of the Cape Dory Sailboat Owner's Association) . Having only a minimal understanding of the nuances involved in sailboat design this reputation was the most important factor in my boat buying decision.
Given Cape Dory Yachts' attention to quality it is no surprise that Vavolotis is still building boats. After the company's demise around 1991 he moved what was left to Robinhood, Maine where (among others) the Robinhood 36′ and 40′ are still being built from the Alberg-designed Cape Dory 36′ and 40′ molds. This is also the home of Spartan Marine, Cape Dory Yachts' in-house hardware company which is still one of the few producers of high-quality traditional bronze hardware. I can't afford the new stuff, but I have some Spartan hardware which came stock on my boat. The bronze cleats are beautiful crafted, as are the stainless steel stanchion bases which show virtually no corrosion after 36 years, even at the welds.
I'm sure to find a few things to split hairs about as we work on and sail the boat but all in all I'm very pleased with the way things turned out. It appears I've been lucky enough to acquire a very well-built boat.
Here are the stats on my Cape Dory 28.
Cape Dory 28 Specs:
| | |
| --- | --- |
| L.O.A.: | 28′ 1 3/4 " |
| L.W.L.: | 22′ 2 1/2″ |
| Beam: | 8′ 10 1/2″ |
| Draft: | 4′ 0″ |
| Displacement: | 9000 lbs. |
| Ballast: | 3500 lbs |
| Sail Area: | 404 sq. ft. |
| Mast Height: | 40 1/2′ |
| Designer: | Carl Alberg |
| Years Built | 1974 – 1987 |
| Nr. Built | 389 |
(From the Cape Dory Sailboat Owner's Association)
This article was syndicated from Safe At Harbour But Meant For The Sea: DIY Sailing with Paul Calder