puerto vallarta, mexico.
Every time we think we've had our worst night ever we top it soon after. Last night started off badly enough with the huge swell rolling us all over the place. Then came darkness and lightning all around. We'd barely gotten to sleep when things got out of hand.
A storm rolled through and I thought sure this would be our time to get struck by lightning. I mean we were anchored a mile out from land and cones of white heat were exploding all around us. It felt inevitable.
Fortunately that didn't happen. What happened instead was a squall. The rain struck and then the wind climbed. Climbed from fifteen knots to a top of forty-eight in just five or ten seconds. The boat sounded like it was being torn to shreds, though in fact nothing happened. The wind quickly abated and we were left with a boat that had just had a serious fresh-water power washing.
Scared the crap out of Ali though, I will say that. My only concern with it was that we hadn't gotten weather information in three days and had no idea what was going on. I mean it is hurricane season and things can happen pretty quickly. I was happy to be anchored on a long scope in a bay with great holding, but that happiness would have faded quickly had that wind climbed much higher than it did.
The rest of the night passed with the boat being rolled violently in the big swell coming directly in to the bay. No matter how many things we secured around the boat the next big roll would always send something new flying around in it's cabinet. Even one of the drawers that need to be lifted half an inch and then slid out managed to fly open. It was ugly. Meanwhile the kids slept right through it. Well Ouest did anyway, Lowe woke at his normal times unrelated to the banging and crashing going on all around him.
I managed to pass out at some point, but at four a.m. Ali woke me up and said, "Let's go." She'd had enough of this nonsense. I had too. This is exactly the sort of night that makes you realize just how good life on a catamaran can be. Made me wonder if I could just buy another Spindrift and throw a couple of steel i-beams across the two of them.
Not really. Don't tell me how silly an idea that is. Right?
So we were on our way in the dark. The storms had passed, and since they had come from the north they had managed to knock down a good chunk of that ugly south swell as well. There was no wind, but we motored and made good time. We passed a couple of anchorages and just said, "Screw it, let's go home." Home being Puerto Vallarta. Home for the boat being Paradise Village.
So yes, we're back in Paradise for the summer. We won't actually be here long. We've got our downtown condo booked again for a couple of months. During which time I need to get a lot of boat projects ticked off, including a haul out, bottom job, and most likely a new fuel tank. I'll be very happy when that one is done. If I run out of diesel again I will truly be a moron. Nice thing about having run that tank dry is that there won't be much to drain out when they cut that old steel bastard out of there.
Before we'd even got in we had the air conditioner taken out of storage and waiting patiently. The kids were crawling all over it as if they knew that it would be their nighttime savior. The weather has changed dramatically lately and it is now so hot and humid that we walk around with a perpetual gleam of sweat on our bodies. It looks like a body building competition around here. Except for the muscles and flat chests.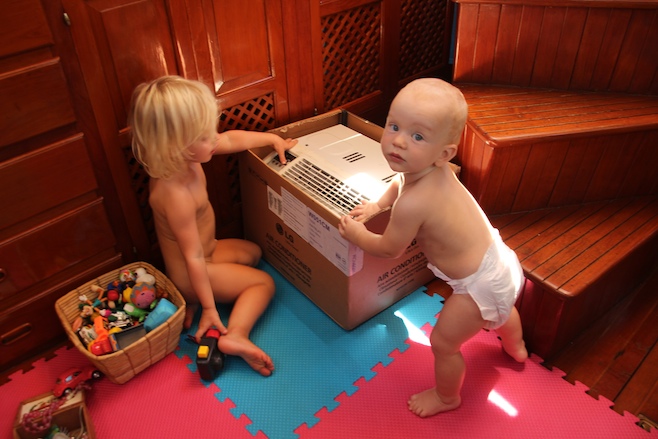 I backed into our slip today. I've surprised myself at how well I've been able to pull this thing in head first, but backing in is a whole different story. This boat just sort of backs up wherever it wants to go, not where I want it to go. After a couple of attempts juking and jiving all over the place I finally got it close enough to throw a line to a trio of dock workers, who I'd been savvy enough to call for ahead of time, and just let them pull us in. I don't think I'll be attempting a backing in maneuver in front of a crowd any time soon.