Okay, this will be it from me on this subject (at least for a few days!).
The boat, or what's left of it, is back at Pier 80. And there are lots of questions ahead, like: when will USA 17 sail again? Will it sail again?
For its part, Oracle sums up its painful 24 hours this way:
Grant Simmer's mouth may say (oxymoron alert!) "extensive superficial damage," but his emotions suggest
another story, and a pretty devastating one at that.
Here's what "extensive superficial damage" (aka a yard sale) looks like (from this gallery):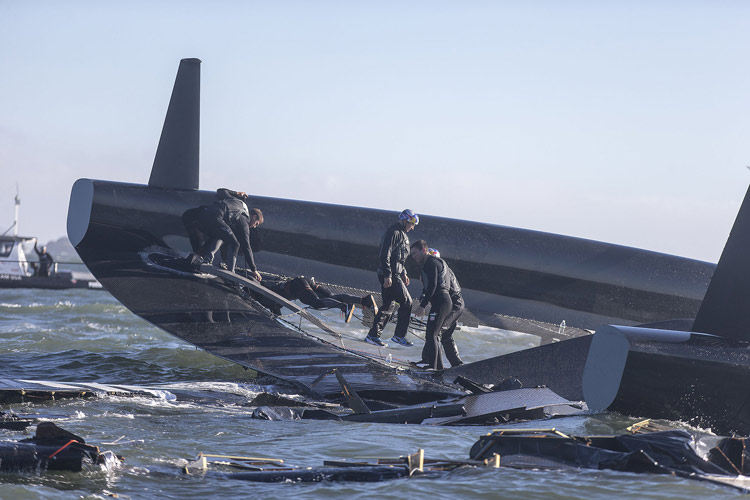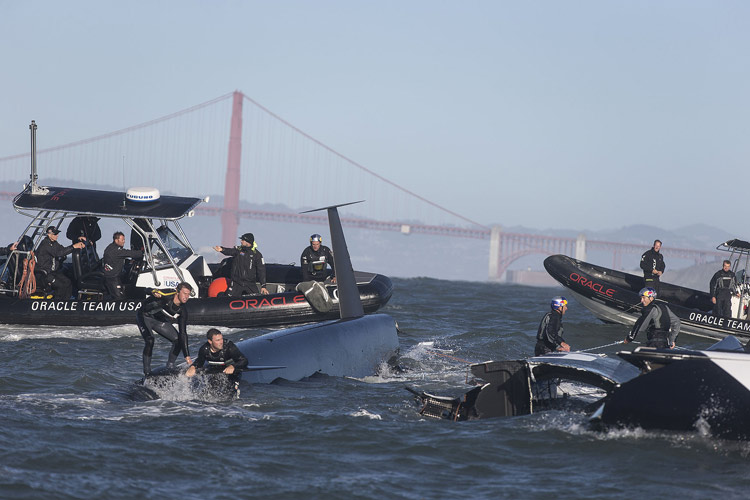 And what does Jimmy Spithill mean when he says: "I'm still confident that we can go out there and defend as the United States team." You mean there's a chance you won't be able to?
Let's move on to Emirates Team New Zealand, which looks more organized and in control of their AC72, on top of the fact that their AC72 just seems like a better, more stable design:
Love that Grant Dalton engages in a little psychological warfare by mentioning ETNZ was out in up to 28 knots. But the more important comment he has, I think, reveals his sober take on the AC72: "That's the problem with these boats. You live on the edge."
Now, last but not least, if you were wondering what the phone call from Jimmy Spithill to Larry Ellison might have been like after he and the crew turned Larry's multi-million doolar boat into flotsam drifting out to sea, Sailing Anarchy's got you covered:
You've gotta think that about now Larry must be wondering just what the hell he has gotten himself (and his wallet) into.