There was a time when cruising was easy. Ali and I might not have known it at the time, but it was. Cruising as a couple is every bit like the glossy magazines show you it is. Flat seas, ice in your drinks, and girls who've lost their bikini tops. Cruising as a couple with two kids is quite a bit different. Even days that should only be moderately challenging feel as if we are trying to conquer Everest. This was one of those.
san blas, mexico.
Day two of the passage was uneventful. Light winds, motorsailing, and making good time in slight seas.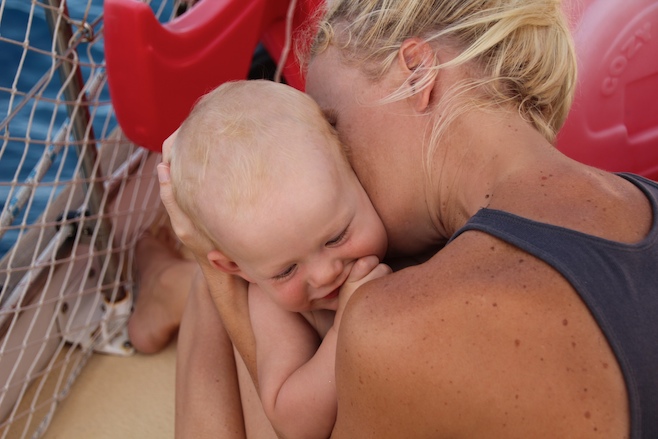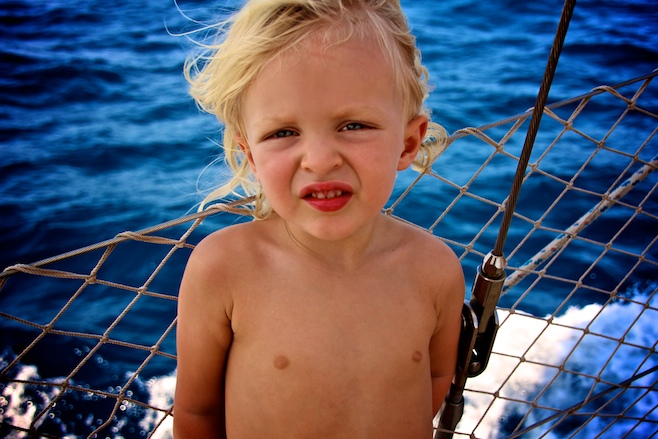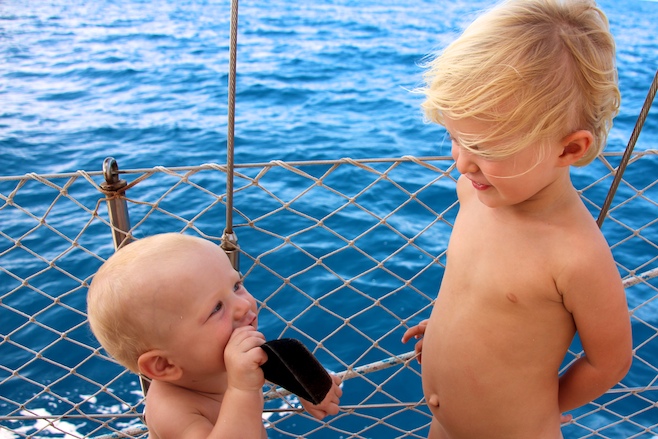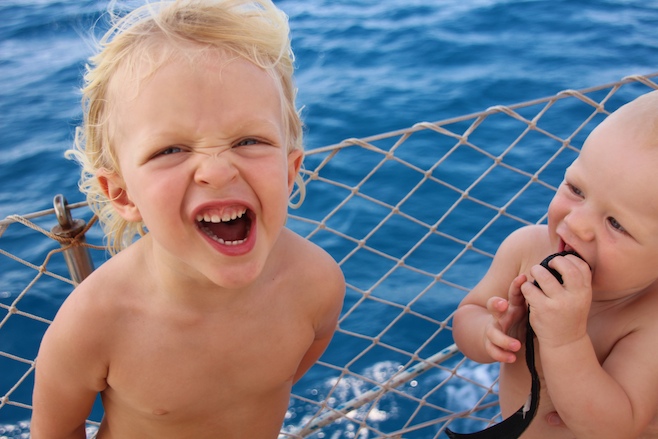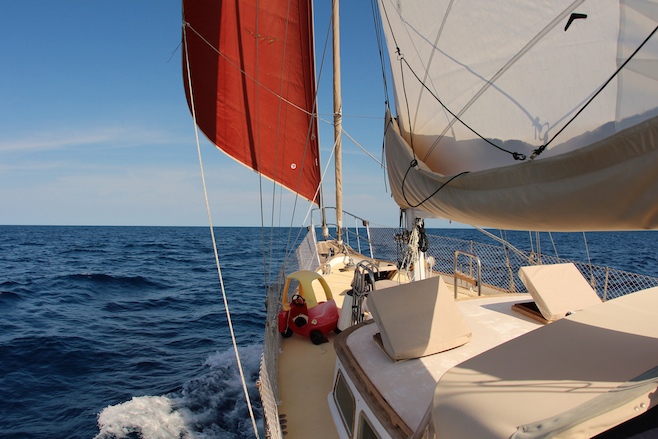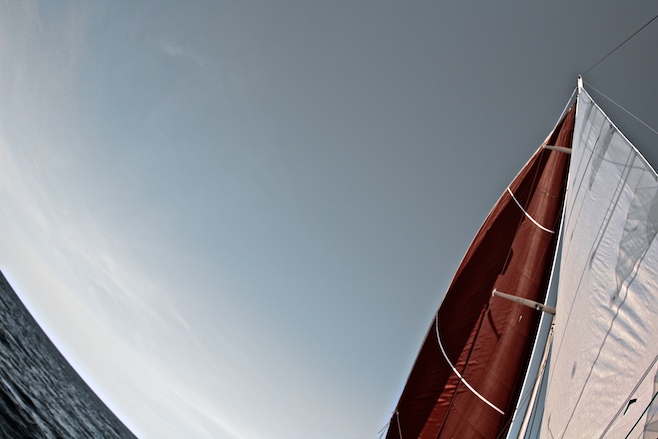 Ouest went to bed last night with her two "Pookie" books. That's the name of the character. After we read them she insisted that she hold onto them as she fell asleep. So a couple hours later I went in and picked them out from underneath her. This morning when she woke up calling, "Papa." I went in and the instant I opened her door she asked in her sweetest sleepy voice, "Two Pookies?" What makes a kid remember something like that after eleven straight hours of sleep?
Just before dark last night a boobie bird landed on our mast. Right up on top he stood flapping his wings ever few seconds to catch his balance as we bounced and rolled along. Hours later he was still up there not sleeping one bit. And then this morning we woke to find him still working away. Then when we pulled up to Isla Isabela, a bird sanctuary, he hopped off and flew away. Eighty miles he hitched a ride for. Like we were a Greyhound bus with Isabela written across the top of our windshield.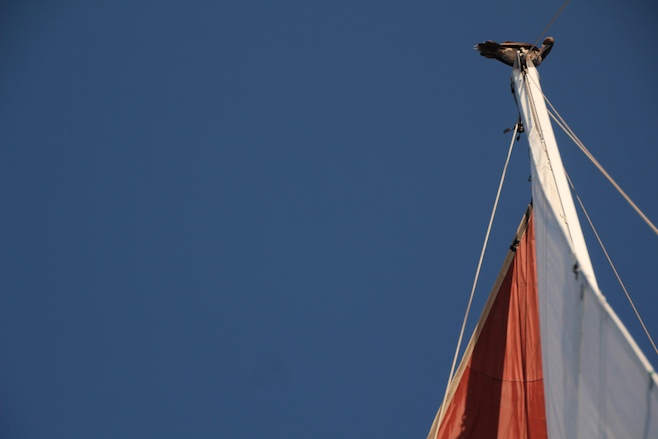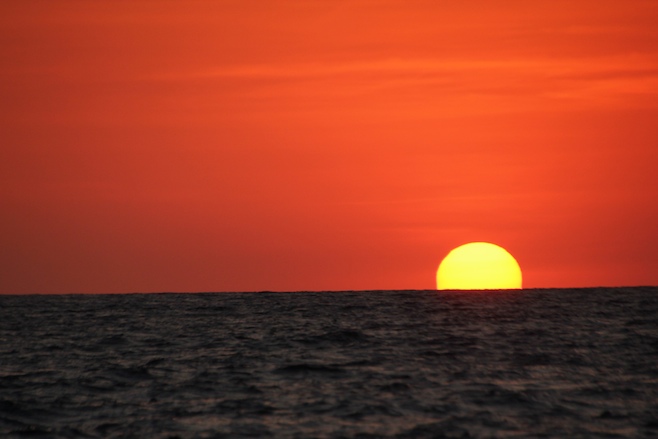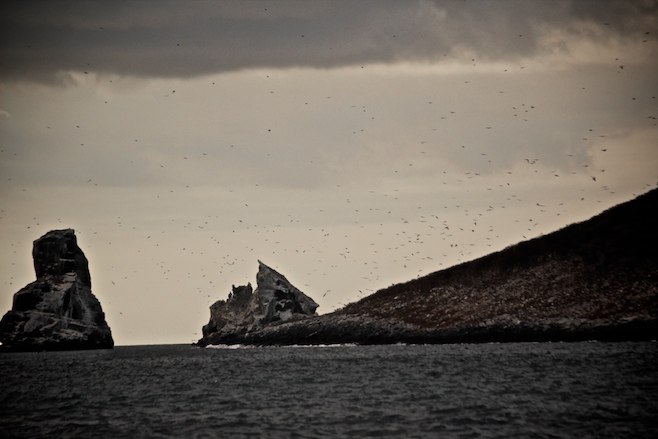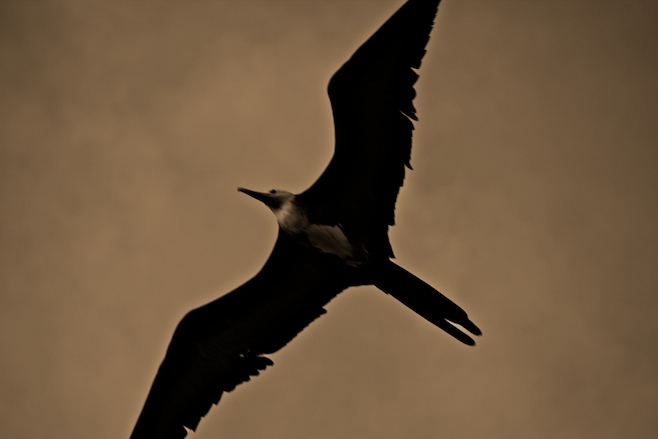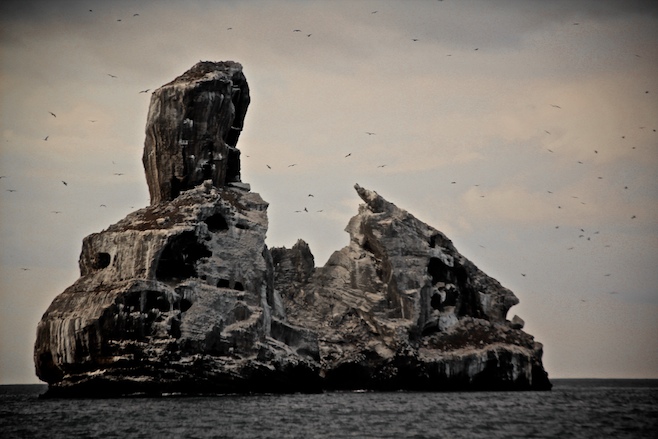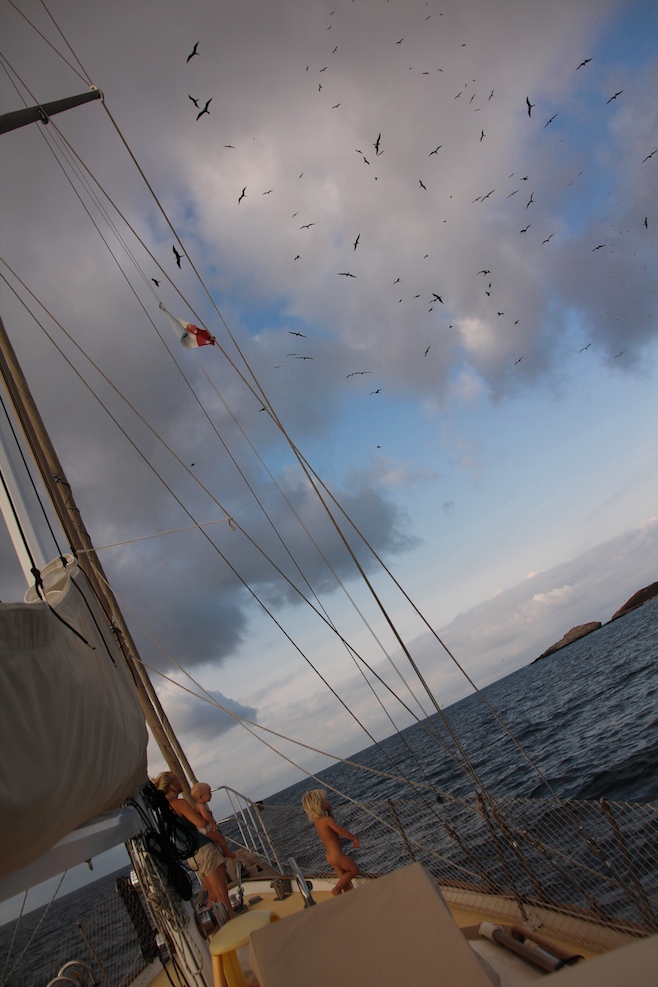 Our long and somewhat uninteresting two-day trip across fell apart a bit as we approached San Blas and the finish of the crossing. We were motorsailing along in thirty feet of water just a mile from the anchorage when the engine died. Out of diesel. Again. I know this has happened before, in fact, by some strange coincidence it happened within two miles of this exact spot on our last trip in to San Blas.
Anyway, it's a long convoluted story to explain why this happens, but the gist of it is that the starboard tank has a big hole in the top of it which keeps me from filling it to capacity, which also keeps me from being able to determine how much diesel this engine is actually burning per hour. Without being able to do either of these things I find that the safest bet is to keep the port tank shut off as a backup tank in case I do run out of fuel. If I left it open all the time then I'd really have no idea how much diesel we had and when and if we ran out we would have nothing in reserve.
That's my excuse. I'm sticking to it. Ali doesn't care what the excuse is, she just thinks I'm an idiot for ever allowing it to happen in the first place. She's probably right I suppose.
So we dropped the sail and dropped the anchor. The problem with this was that there was a wicked two to three meter swell running all afternoon. It was so big in fact that we had stopped at Isla Isabela at eight in the morning fully intending to spend the day and night there but couldn't because conditions were so untenable.
Now we were anchored right in the way of this big swell and I had to reach into the sweltering engine compartment to bleed the fuel system. Should have been easy enough, but I've come to determine that I chose a bad spot to install my electronic fuel pump. It's in-line with the starboard fuel line. Duh. So the starboard tank is empty and the electric fuel pump sucks nothing but air. If the tank didn't have a gaping hole in the top of it there would eventually be enough suction to get the fuel flowing from the port tank, but there is a hole, so that doesn't work.
This story is going on and on, and it really isn't dramatic or anything, it's just one of those terrible endings to an already extremely long day. I eventually got the system bled and moved us over to the anchorage, which really was only one minor step up from being anchored out in the open. The swell is ridiculous. So ridiculous we couldn't even consider launching the dinghy and taking the kids to shore like they would have loved. Ouest looked crestfallen when we told her.